Islamic State militants have seized the last Syrian government-controlled border crossing between Syria and Iraq, a Syria monitoring group says.
Frantic Message as Palmyra, Syria, Fell: 'We're Finished'
The Syrian Army soldier had long served in Palmyra, but he was on leave when he heard that Islamic State militants had attacked a village northeast of the desert city, killing dozens of his comrades. He sent frantic text messages, trying to reach them. No one answered.
He shared his anguish last week in a series of texts as he slowly pieced together bits of the story from survivors of the massacre. Soldiers told him they had run out of ammunition. One officer radioed to headquarters, "We're finished." Worst of all, the soldier said, was the photograph he was shown of the decapitated body of a friend, the 19-year-old daughter of a Syrian general.
Within a matter of days this week, the Islamic State, also called ISIS or ISIL, seized with apparent ease the cities of Ramadi in Iraq and Palmyra in Syria, in both cases seemingly coming out of nowhere to rout government forces. On Thursday, the militants were digging in, consolidating their grip and executing people with ties to the old order.
Yet a closer look at the two battles shows the group following a longer-term strategy, in both cases biding its time, taking territory mainly from other insurgent groups. Then, after years of war, attrition and corruption had left the government forces demoralized and, particularly in Syria, hollowed out, it attacked, overrunning them.
Palmyra was a place where tensions had long simmered, a mainly Sunni tribal city where a local rebellion was put down early in the war, and where relations between residents and security forces were complex. A young officer serving there from the Alawite heartland had confessed a year earlier that he felt no connection to the population and feared residents would kill him the first chance they had.
Ramadi, the capital of Anbar Province, Iraq's Sunni heartland, was also divided in its loyalties.
Those problems were on display in Palmyra before and during Wednesday's rout. Residents were caught between the latest Islamic State onslaught and what sometimes seemed like a haphazard government response. The scenes of chaos that unfolded belied the Syrian state news media's claim that government forces had withdrawn only after taking families to safety.
Residents — supporters and opponents of President Bashar al-Assad — described officers fleeing, leaving civilians and lowly conscript soldiers to fend for themselves. One business owner said he watched pro-government militiamen run helter-skelter into orchards, not sure where to retreat. "Treason," he called it.
Residents videotaped airstrikes coming close to the town's medieval citadel and wondered why the militants had not been bombed earlier — by the government or, for that matter, by the United States-led coalition waging a parallel air war against them — while they were traversing miles of open desert roads.
But most of all, they said, they had lost any sense that the government could provide safety even to its loyalists. On Thursday, after the militants had taken over the city and begun executing people they deemed close to the government, many residents cowered in their houses and basements, terrified of militants in the streets and of government shelling and airstrikes from the sky.
Some found it ominous that the state news media had incorrectly declared that most civilians had been evacuated, perhaps an excuse to increase airstrikes.
"I can foresee the regime bombarding the town massively, especially after the huge loss among its soldiers," said Khaled al-Homsi, a member of the committee that organized anti-government protests in Palmyra in 2011, before anyone imagined full-blown civil war, let alone a group like the Islamic State.
"The civilians are terrified," he said. "The only bakery is controlled by ISIS. The army is bombing randomly."
Mr. Homsi, 32, a former hotel worker who uses a nom de guerre for safety, said he was nervous that the militants would seek revenge against him and other activists who oppose them and the government.
"I'm happy that Palmyra was liberated from the regime, but not happy it fell under Daesh control," he said, using the Arabic acronym for the Islamic State. "In my view, as an activist, it is not a liberation."
In a rare wartime visit to Palmyra a year ago, New York Times reporters met a range of people, who have kept in touch. In recent days, they provided a play-by-play view of the chaos, emotion and uncertainty there as the militants rolled in.
Khalil al-Hariri, an archaeologist who keeps his hair dyed shoe-polish black, fled his house on the northern edge of the city, which had become the front line, while his colleagues scurried to cart away ancient artifacts from the museum. On Palmyra's few shopping streets, metal gates rolled down, shuttering businesses like the Zenobia Café, named for a legendary queen of ancient Palmyra. Omar, a fellow activist of Mr. Homsi's, began erasing computer files that he thought the militants would find incriminating. Mr. Homsi said he had nothing to hide. Poking fun at the Islamic State's ban on smoking, he said, "I'll hide my cigarettes."
Ahmed, who owns an antiquities shop near the museum, said on Wednesday that his family had packed their bags to leave town. But, he said, "The government is not allowing us."
Expecting to head to Palmyra with reinforcements, the soldier, who is 27 and comes from a Sunni family, sent a photograph — maybe his last, he warned. But the roads were blocked. A cousin serving in Palmyra told him: "Stay where you are. God loves you." The soldier asked not to be further identified out of fears for the safety of he and his family.
After the militants took control, Mr. Hariri, the archaeologist, reached again by phone, said that he had left with about four people. Nevertheless, he said, "most of the civilians are still there." He paused. "What can I say? The situation is really bad."
Another business owner spluttered in anger, "This is the army's fault." He was out of town when the assault came, but was unable to get his parents out.
He said his parents had reported militants' issuing a call from the minarets for people to hand over any soldiers or government workers. Yet, at the same time, the militants were fanning out through the city to offer services. "They are even handing out bread, god forbid," he said.
By Thursday night, several dozen people had been publicly executed, residents said.
For Mr. Homsi, the day's events had presented him with a new power to revolt against. "We will face and confront the destruction of the town's history and heritage," he said. "The revolution was and will remain my life. We won't accept oppression from anyone."
As for the soldier, he had lived through bloody battles, but none had shaken him like the deaths of his comrades. (Thirty-five soldiers were buried in the provincial capital of Homs on Thursday alone, a resident who lives near the hospital there said.)
"I wish I were not a soldier, but a civilian living normal life, married with children," he confessed on Wednesday. His situation, he said, reminded him of a line from the beloved damascene poet Nizar Qabbani: "Love me... away from the lands of oppression and repression, away from our city which has had its fill of death."
Then he headed off to try once more to reach the front. He has not texted since.
Islamic State 'seizes key Syria-Iraq border crossing'
Islamic State militants have seized the last Syrian government-controlled border crossing between Syria and Iraq, a Syria monitoring group says.
Government forces withdrew from al-Tanf - known as al-Waleed in Iraq - crossing as IS advanced, the Syrian Observatory for Human Rights (SOHR) said.
The loss of al-Tanf to IS follows the group's takeover of the ancient Syrian city of Palmyra on Thursday.
The US says that fighting the militants will be a "difficult challenge".
Islamic State now controls "more than 95,000 sq km (36,679 sq miles)" of Syria, which is 50% of the country's entire territory, the UK-based SOHR said.
The militants dominate the provinces of Deir al-Zour and Raqqa and have a strong presence in Hasakeh, Aleppo, Homs and Hama.
However, correspondents say there are large areas under IS control in the east that are not very significant strategically.
IS has also made significant gains in neighbouring Iraq, capturing the strategically-important city of Ramadi in Anbar province after weeks of fighting.
The BBC's Jim Muir says that the militants, demonstrating the extraordinary momentum they have shown in the past, have not been content to sit and savour the major gains they have made in recent days.
The seizure of al-Tanf, in Syria's Homs province, enables IS to link up its positions in east-central Syria more directly with the ground they hold in Iraq's western Anbar province, he notes.
Militants in Iraq are reported to be pressing eastwards from Ramadi down the Euphrates Valley towards Habbaniya where pro-government forces are massing for a proposed counter-attack on Ramadi.
If they take Habbaniya, IS will be close to linking up directly with Falluja, a city close to Baghdad which has been held by the Sunni militant group for well over a year despite repeated attacks by government forces, our correspondent says.
Iraq's Deputy Prime Minister Saleh al-Mutlaq warned that fighting IS was no longer a "local matter", and calledon the international community to act.
"All the world will face this danger if there is not a clear strategy to fight Islamic State," he said.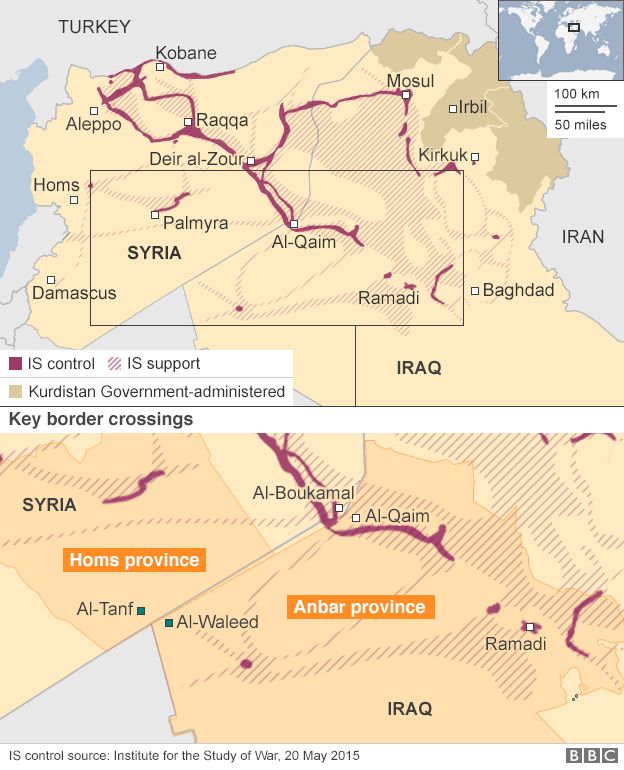 The US and its coalition partners are carrying out strikes against IS in Syria and Iraq - they have carried out 18 air strikes on targets in Syria since Wednesday, US officials said.
The US has acknowledged recent IS gains are a "setback" for coalition forces, but President Barack Obama insisted the US is "not losing" the war with the group.
"There's no doubt there was a tactical setback, although Ramadi had been vulnerable for a very long time," he told The Atlantic magazine in an interview published on Thursday.
"The training of Iraqi security forces, the fortifications, the command-and-control systems are not happening fast enough in Anbar, in the Sunni parts of the country."
White House spokesman Josh Earnest said the problem of IS was "not going to be solved overnight".
"Until we're able to build up local forces on the ground in Syria who can take the fight to Isil [IS] in their own country," he said, "this is going to continue to be a difficult challenge."
Meanwhile, the United Nations has expressed concern at reports that Syrian forces in Palmyra prevented civilians from leaving, ahead of its fall to Islamic State.
It said it was "deeply concerned" about the plight of those remaining in the area, amid reports of summary executions.
IS has also overrun the World Heritage site adjacent to the modern city, raising concerns about its future. The militants have previously demolished ancient sites that pre-date Islam.