As many as 27 men accused of masterminding the failed coup attempt against the Turkish government arrived in court in the capital Ankara Monday, as President Recep Tayyip Erdogan refused to rule out bringing back the death sentence for those involved in the ill-fated takeover attempt.
Earlier images show Akin Ozturk, a four star general and former commander of the Turkish air force alongside others accused by Erdogan of leading the failed coup attempt in police custody in Ankara. One image shows Ozturk wearing a bandage over one ear; another reveals bruising on his neck.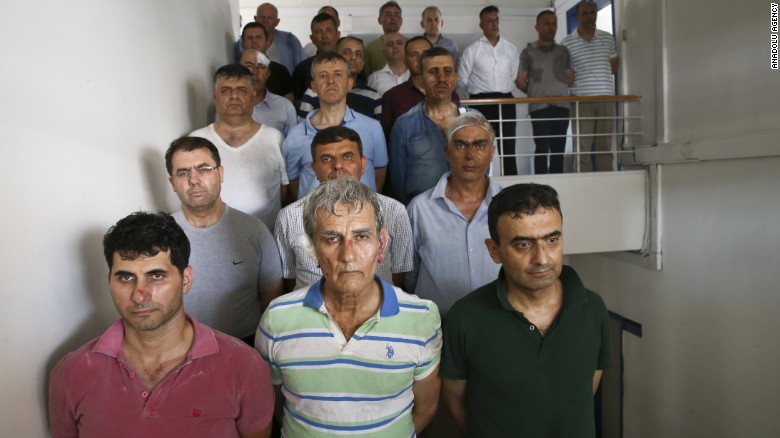 Akin Ozturk (center, first row) appears in a picture, which has been verified by CNN, which shows some of the 27 men accused by the Erdogan government of having led Friday's failed coup in Turkey.
He is shown alongside the other accused are also shown being roughly led away, their hands bound with plastic ties, paraded in front of cameras as they were bustled into a waiting van.
Over the weekend, photographs surfaced on social media of apparent mass detentions, including one showing dozens of people kneeling down in a large stable in Ankara, apparently stripped to the waist.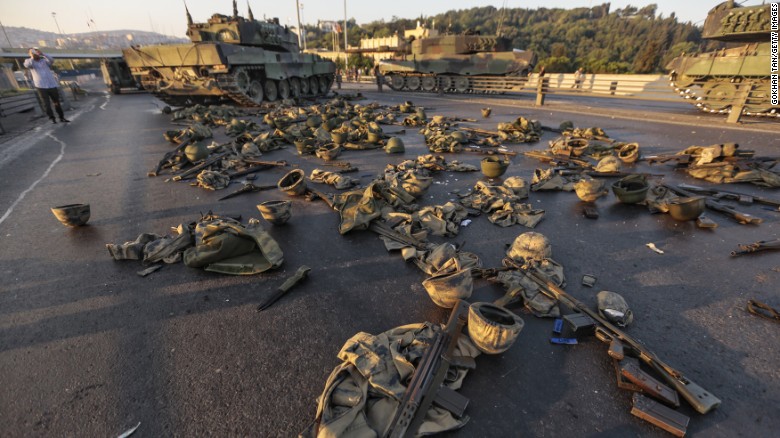 Erdogan vowed to continue his crackdown on alleged coup plotters as the number of those detained by the government topped 6,000.
The 6,000 arrests include senior aides and senior members of the military. Arrests will continue, according to Turkey's foreign ministry.
The arrests include Gen. Bekir Ercan Van, commander of the Incirlik Air Base, according to the Turkish President's office. The United States uses the airbase to launch airstrikes on ISIS in Syria and Iraq.
An "order of detention" for Col. Ali Yazici, a senior military aide to Erdogan, has also been issued, according to Anadolu.
The Ankara Bar Association is expected to provide lawyers for the defense of the men during a scheduled appearance at a court in Ankara Monday. So far the lawyers say they have had no access to the men and will not be able to meet any new detainees rounded up as alleged coup plotters.
The 27 men already held will not be allowed to see their lawyers until they are in court today.
The president was due to address a crowd in Ankara, the country's capital, early Monday.
Thousands of soldiers have been arrested and hundreds of judiciary members removed since Friday's uprising, which left at least 290 people dead and more than 1,400 injured in a chaotic night of violence.
Prime Minister Binali Yildirim has vowed that the plotters "will pay a heavy price." Erdogan said that he will remove the "viruses" from all state institutions.
Amnesty: Rights must be respected
Turkey's history of military coups has long had "devastating consequences" for human rights, Amnesty International said in a statement.
"The full circumstances of the coup attempt and the violence that followed it must be effectively investigated and all those responsible brought to justice in fair trials," the statement read.
"A number of government officials and ruling party representatives have spoken in favor of reinstating the death penalty, itself a tool of past military rulers. This regressive step should be avoided, as should further restrictions on legitimate dissent."
On Sunday, speaking at a funeral on Sunday held for some of those killed during gunfire -- including the brother of his chief adviser, Mustafa Varank -- Erdogan said he did not rule out bringing back the death penalty for the coup's perpetrators.
As the crowd chanted "we want the death penalty," he said, "we can't ignore the people's request in a democracy -- this is your right."
"This right has to be evaluated by the appropriate authorities according to the constitution and a decision can be made," Erdogan said in the address broadcast live on TV.
Erdogan blames Gulen
In addition to those detained, Erdogan is demanding the United States arrest or extradite Islamic cleric Fethullah Gulen, whom he blamed for the attempt to overthrow the government.
"Twenty years ago, I clearly stated my support for democracy and I said that there is no return from democracy in Turkey," Gulen said Saturday. "My position on democracy is really clear. Any attempts to overthrow the country is a betrayal to our unity and is treason."
Gulen, who is living in self-imposed exile in Pennsylvania, denied he had anything to do with it.
U.S. Secretary of State John Kerry said the United States hadn't yet received a formal request from Turkey for Gulen's extradition.
"We think it's irresponsible to have an accusation of American involvement when we're simply waiting for their request -- which we're absolutely prepared to act on if it meets the legal standard," Kerry said.
The attempted coup
Military tanks rolled onto the streets of Ankara and Istanbul the night before and soldiers blocked the famous Bosphorus Bridge.
The military's claim of a takeover was read on state broadcaster TRT. The military said it wanted to maintain democratic order and that the government had "lost all legitimacy."
But the coup attempt lost momentum after Erdogan returned from vacation at the seaside resort of Marmaris. In an interview via FaceTime on CNN Turk, he appealed to supporters to quash the attempted coup, and they took to the streets en masse.
By the time he re-emerged after hours of silence, dozens had died.
Most of those who died were police officers killed in a gun battle with a helicopter near the Parliament complex in Ankara, reported NTV, a Turkish television station. An additional 1,400 people were wounded.