A plane carrying 81 people, including a top Brazilian football team, has crashed on its approach to the city of Medellin in Colombia.
Reports say seven people were pulled alive from the plane but two have since died including the team's goalkeeper.
The chartered aircraft, flying from Brazil via Bolivia, was carrying members of the Chapecoense team.
The team had been due to play in the final of the Copa Sudamericana, against Medellin team Atletico Nacional.
The first leg of the final of the cup, South America's second most important club competition, was scheduled for Wednesday but has now been suspended.
The match was seen as the biggest in the history of the relatively small club, which entered Brazil's top division for the first time in 2014.
Brazilian President Michel Temer announced three days of national mourning, and top Spanish clubs Real Madrid and Barcelona held a minute's silence at the beginning of their practise sessions.
The South American Football Confederation (Conmebol) said it was suspending "all activities".
Chapecoense issued a brief statement saying: "May God be with our athletes, officials, journalists and other guests travelling with our delegation."
It said it would refrain from any further statements until it had assessed the extent of the crash.
Later the team's vice-president, Ivan Tozzo, told cable channal SporTV: "There are a lot of people crying in our city. We could never imagine this. Chapecoense is the biggest reason for joy here."
At least two of the survivors are footballers. They were confirmed to be defender Alan Ruschel and reserve goalkeeper Jackson Follman.
Some reports suggest another defender, Heilio Neto, was also rescued.
The club's main goalkeeper, Marcos Padilha aka Danilo, was also pulled alive from the wreckage but a spokesman said he later died in hospital.
The sports network Telemundo Deportes tweeted (in Spanish) that Ruschel was in shock but conscious and talking, and asked to keep his wedding ring and to see his family.
His wife told Globo TV: "Thank God Alan is in the hospital. He's in a stable condition."
The team, from the southern city of Chapeco, was promoted to Brazil's first division in 2014 and reached the final last week after a victory against Argentina's San Lorenzo.
Medellin's Mayor Federico Gutierrez described it as "a tragedy of huge proportions".
Conmebol said in a statement that its president, Alejandro Dominguez, was on his way to Medellin.
"The Conmebol family greatly regrets what happened. All activities of the confederation are suspended until further notice," it said.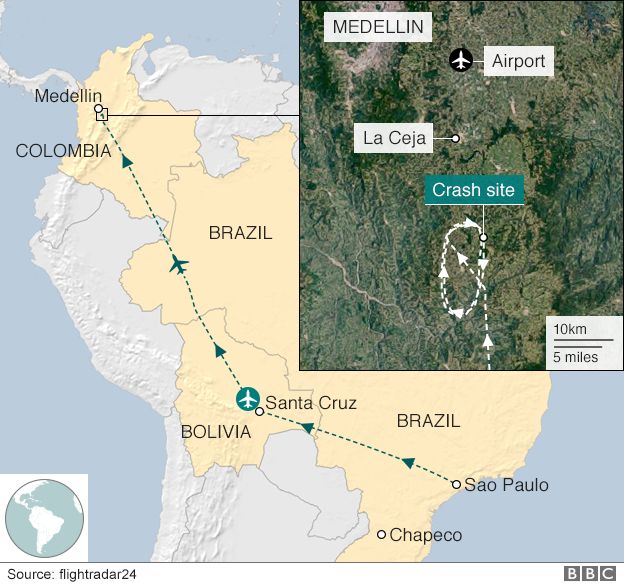 What we know about the crash so far
Plane operated by charter airline Lamia, originally from Venezuela but based in Bolivia
Carrying 72 passengers and nine crew, among them members of the Chapecoense football team
Flying from Brazil, bound for Medellin, Colombia, after a stopover in Santa Cruz, Bolivia
Plane crashed at 22:15 local time on Monday (03:15 GMT on Tuesday) after pilot reported an electrical fault
Six people survived the crash, including three footballers