More than 50 people were killed and "well over" 400 were injured when a gunman opened fire on concertgoers from a perch above the Mandalay Bay Resort and Casino in Las Vegas Sunday night, police said, making it the deadliest shooting in modern U.S. history.
The "nonstop gunfire," according to one witness, sent more than 22,000 attendees of a country music festival across the street from the hotel ducking for cover and scrambling for their lives. Police say the suspect, who was found dead, had over 10 rifles.
Bystanders sprang into action, caring for the wounded and at least one of them described a man's dying in his arms.
A Las Vegas police officer who was off-duty attending the concert is among the dead, police said.
One video showed the aftermath as the injured lay on stretchers or on the ground with responders and bystanders surrounding them to give aid. Bystanders made makeshift stretchers out of police barricades, plugged wounds with their hands and used their clothing to try to stanch the bleeding from the wounded.
In the wake of the shooting, the Las Vegas Police Department said authorities responded to a hotel room on the 32nd floor of the Mandalay Bay hotel, where police said the suspected gunman, 64-year-old Stephen Paddock, was dead. Police said they believe Paddock, of Mesquite, Nevada, killed himself prior to police entry.
The motive was unclear. A senior law enforcement official told ABC News that so far there are no ties to international terror.
Videos filmed by onlookers gave a window into the chaos that ensued, with some thinking that fireworks were going off. The bullets rang out over the final night of the Route 91 Harvest Music Festival, which was taking place across the street from Mandalay Bay. Jason Aldean was the night's headliner; other performers included country stars Jake Owen, Big & Rich, Luke Combs and Dylan Scott.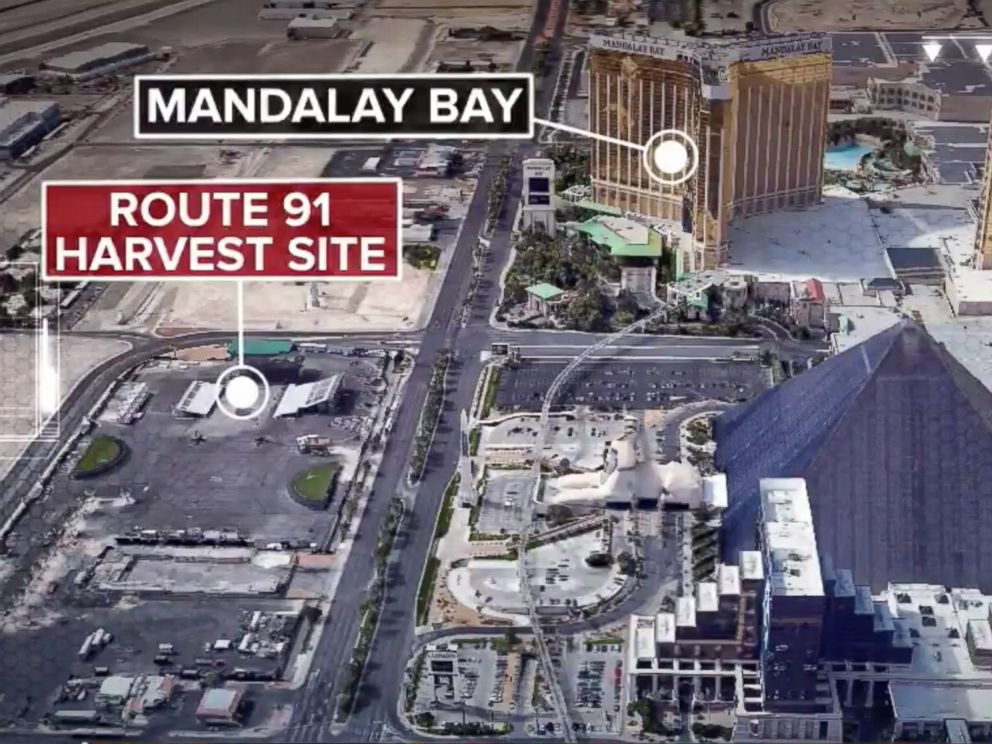 Witness Brian Claypool said on "Good Morning America" today that after the first round of gunfire, he ran into a little room that he described as a production area.
"The hardest for me was, I saw six young women. They were maybe 20, 22. They were all crying on the ground. I was trying to be calm," Claypool said, appearing emotional.
"But I thought at the moment of the Orlando shooting, because we were in this room," he said of the 2016 Pulse nightclub shooting that left 49 people dead. We didn't know where the shooter was. We thought he was going to jump the fence and come in this room and shoot us all. ... I'm thinking, 'Am I going to die in this room?'"
"Then the shooting stopped," Claypool said, "And I peeked out the front of the door, I peek my head out, police officers scream, 'Go! Go!'"
Claypool said he tried to bring comfort to the young women who were sheltering in the room with him.
"I said to myself, 'These girls aren't going to die. I'm not going to die," he said. "I need to get home to see my daughter. This is not happening.'"
Concertgoer Mike Cronk told ABC News that as Aldean was playing, it "kind of sounded like some fireworks going off. I think there was the first kind of volley, and then all of the sudden second volley. My buddy's like, 'I just got hit, you know.' He got hit three times. Then people started diving for the ground. And it just continued.
"It was pretty much chaotic," Cronk continued. "Lots of people got hit. ... It took a while to get him out. We had to get him over the fence and hiding under the stage for a while, you know, to be safe. And, finally, we had to move him because he had three chest wounds."
Cronk said his group were finally able to track down an ambulance "and basically the one guy ended up dying in my arms because he was bleeding," he said. "And my buddy got in there. We got three more people in the ambulance. ... But I just got a message from my buddy -- and he's going to be OK."
As bursts of gunfire crackled in the air, people outside of the casino ducked and screamed, according to video filmed by witnesses.
"We're going to get trampled if we don't go," a bystander could be heard saying in a dramatic video of the incident. Confusion appeared to abound as those outside fled the scene with another person saying, "it's fireworks."
Michelle Leonard, who was located in a booth near the main entrance of the arena, said the shooting just "kept going nonstop."
Leonard said "mass confusion" unfolded as people tried to flee the scene. She said the shooting seemed like it went on for more than a minute.
"I had no idea of where it was coming from or where to run to," Leonard said.
She said she injured her leg as she tried to escape.
Another witness, Jake Freeman, said he was standing on the rooftop of a nearby hotel when the shooting broke out.
"I had a bird's-eye view" of the shooting, Freeman said in a phone interview with ABC News. He said he saw "crowds of people running" as people "dropped to the ground."
"At the moment we didn't realize that they were being shot," he said.
Aldean, who performed at the country concert Sunday night, wrote on Instagram, "Tonight has been beyond horrific. I still dont know what to say but wanted to let everyone know that Me and my Crew are safe. My Thoughts and prayers go out to everyone involved tonight. It hurts my heart that this would happen to anyone who was just coming out to enjoy what should have been a fun night."
An official with McCarran International Airport said "an airport perimeter fence near the concert venue was breached by people fleeing the scene of the incident."
"Airport staff responded and have transported those people to the designated evacuation site," the officials said. "The fence line is once again secured."
Flights in and out of the McCarran International Airport in Las Vegas were temporarily halted due to the incident.
The airport later tweeted, "With heavy hearts @LASairport is pressing on this morning with full operations."
Agents for U.S. Bureau of Alcohol, Tobacco, Firearms and Explosives have responded to the scene and the FBI is assisting with the investigation.
Police said Paddock had no criminal history, save a minor citation. He appears to have worked as an accountant or auditor and was a licensed hunter and private pilot.
Eric Paddock, the suspected shooter's brother, told ABC News, "We have no idea how or why this happened."
"As far as we know, Steve was perfectly fine," Eric Paddock said.
Authorities initially said they were looking to speak with a companion of the shooter, Marilou Danley. Police later said this morning that "detectives have made contact with her and do not believe she is involved with the shooting." Police said she is out of the country and it's believed the suspect was using some of her identification.
Mandalay Bay Resort tweeted, "Our thoughts & prayers are with the victims of last night's tragic events. We're grateful for the immediate actions of our first responders."
The resort said in a statement that "law enforcement requested that we put hotels in the vicinity on lockdown to ensure guest safety."
Police said family and friends looking for their loved ones can call 1-866-535-5654.
President Donald Trump tweeted, "My warmest condolences and sympathies to the victims and families of the terrible Las Vegas shooting. God bless you!"
Nevada Gov. Brian Sandoval tweeted, "A tragic & heinous act of violence has shaken the #Nevada family. Our prayers are w/ the victims & all affected by this act of cowardice."
"Pray for Las Vegas," Las Vegas Mayor Carolyn Goodman said via Twitter. "Thank you to all our first responders out there now."