HBO tweeted the image with the message: "April #GoTSeason6 #GameOfThrones".
It is the first major hint since pictures of actor Kit Harington at an airport in Northern Ireland, where the series is filmed, went viral in July.
Snow was apparently murdered at the end of season five.
Fans last saw him lying stricken after he being brutally stabbed by his comrades in the Nights Watch.
Actress and Pitch Perfect 2 director Elizabeth Banks was one of thousands of fans who took to social media to question whether the character was really set to make a return. She tweeted: "Fired up. Ready to go. #JonSnow".
Violeta Molina said: "Is he back for real? Is he a ghost? Is this all a cruel joke being played on us by HBO?"
Stage musician Ben Hanlin added: "You all thought he was dead.... You know nothing!"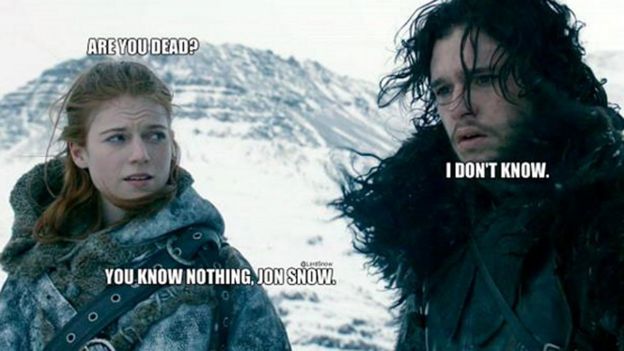 Some fans are sceptical about the poster with Citizen D claiming: "Something feels off with that Jon snow poster. [I don't know] what kind of games HBO is playing but I don't like it one bit."
Scott Crawely took a slightly more hopeful look: "The real good news, If they can bring back Jon Snow they can bring back all of my other 30 favourite characters that died."
Channel 4 news anchor Jon Snow appeared to be slightly aggrieved his name was trending on social media, tweeting: "Winter is not coming: I have never been dead: I am a journalist: I am alarmed that my namesake has me trending!"
Game of Thrones, which began in 2011, has won 26 Primetime Emmy awards, including this year's outstanding drama series and a Bafta audience award in 2013.