Two top Al-Shabaab figures were among the scores killed in a U.S. attack Saturday in Somalia, a senior Somali intelligence source said.
The source identified the slain Al-Shabaab leaders as Yusuf Ali Ugas, a regional commander, recruiter and influential preacher, and Mohamed Mire, Al-Shabaab's governor for Somalia's Hiran region and a key member of the group's finance wing.
The pair were among as many 150 members that the Pentagon said had been killed Saturday in an operation 120 miles north of Mogadishu at a training site called "Raso Camp," according to Pentagon spokesman Capt. Jeff Davis.
The Pentagon said Monday the attack -- initially described as a drone strike, but later clarified to feature both manned and unmanned aircraft -- was carried out to fend off an imminent threat against U.S. troops and African peacekeeping forces in Somalia.
There was no immediate Al-Shabaab response to the claim that Ugas and Mire had been killed.
But the terrorist group did refute the Pentagon's more general report about mass Al-Shabaab casualties on its Twitter account.
"Harakat Al Shabaab Al Mujahideen denies the claims of killing 150 fighters in recent airstrike, as was reported by the Pentagon," the group said.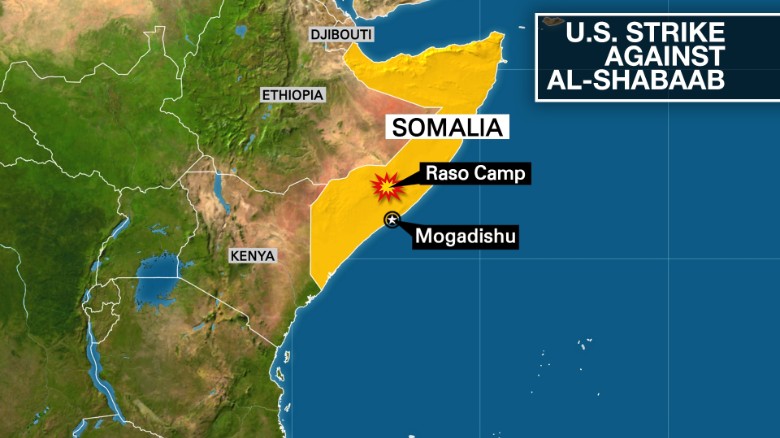 U.S. history of helping Somali military
Al-Shabaab began aiming to turn Somalia into a fundamentalist Islamist state. But it has since expanded its tactics and reach by inflicting terror around East Africa, as seen in last year's massacre at Kenya's Garissa University College and a deadly 2013 siege of Nairobi's upscale Westgate Mall.
The al Qaeda-linked group's ruthlessness and ambition has prompted crackdowns from governments around the region as well as their allies, like the United States.
At least 10 dead in attack on Somalia's parliament building
The U.S. military's involvement has consisted of numerous drone strikes. Forces have been on the ground as well, such as when U.S. Navy SEAL Team Six conducted a 2013 raid to capture suspected Al-Shabaab leader Ikrima only to pull out once it became clear he couldn't be taken alive, a senior U.S. official told CNN at the time.
In remarks about this weekend's raid, Pentagon officials did not specify the location of where the United States thought an attack might happen. But it is well known that the U.S. has a limited military presence at the airport in Mogadishu and that small numbers of U.S. Special Operations forces have traveled to other locations in the country.
These efforts are in support of Somalia's government, which is no stranger to terrorist attacks and has fought back militarily against Al-Shabaab for years.
To this point, Awdhegle town official Mohamed Aways said on radio that ground troops and airstrikes killed more than 20 suspected Al-Shabaab fighters overnight in his part of southern Somalia, state news reported Wednesday.
Aways said the brunt of the attack -- involving three warplanes and "infantry"-- lasted about 30 minutes, according to the state-run Somali National News Agency.
Awdhegle is located about 40 miles (65 kilometers) west of Somalia's capital, Mogadishu.