At least 44 people are known to have died, and more than 500 injured, following two major explosions in China's northern port city of Tianjin.
Twelve firefighters are among those who lost their lives; 36 are still missing.
The blasts happened in a warehouse for hazardous chemicals and caused a huge fireball that could be seen from space.
Hospitals have been overwhelmed with people seeking treatment for injuries caused by flying glass and debris. Some 66 people are in a serious condition.
President Xi Jinping has promised a thorough investigation in what happened and "transparent information disclosure to the public," Xinhua news agency reports.
The first explosion occurred at about 23:30 local time (15:30 GMT) on Wednesday, followed seconds later by another, more powerful blast and a series of smaller explosions.
Buildings within a 2km radius (1.5 miles) had windows blown out, office blocks were destroyed and hundreds of cars burnt-out.
The impact of the blasts could be felt several kilometres away, and was registered as seismic activity at a US Geological Survey monitoring unit in Beijing 160km (100 miles) away.
The China Earthquake Networks Centre said the magnitude of the first explosion was the equivalent of detonating three tonnes of TNT, while the second was the equivalent of 21 tonnes.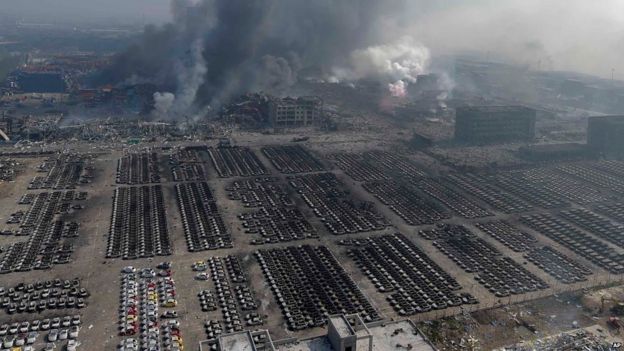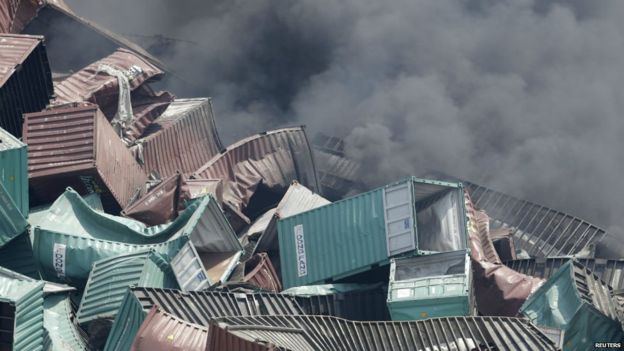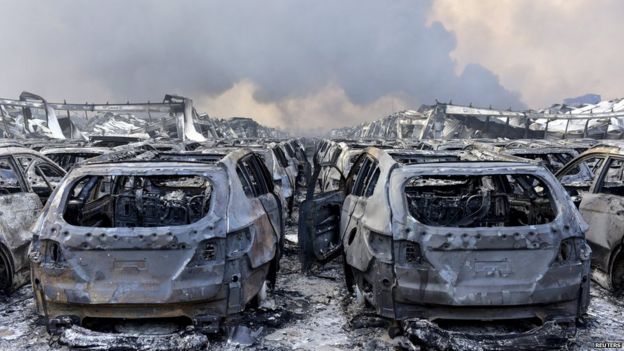 "I saw fire burning and then: Boom! There was an explosion. My first reaction was to run as fast as I could and get down on the ground to save my life," Wu Dejun, 38, a hairstylist, told Reuters.
"When I escaped, I had blood all over me."
"It was like what we were told a nuclear bomb would be like,'' truck driver Zhao Zhencheng told the AP news agency. "I've never even thought I'd see such a thing. It was terrifying, but also beautiful.''
The blast ripped apart a nearby dormitory for migrant workers, who were forced to flee the collapsing building.
"I rolled off the bed after the first shockwave hit, so I scrambled to run for my life," said resident Dan Agio.
"When I reach downstairs the second blast happened. It's as if the sky collapsed. In a blink of an eye, the roof fell."
As of 12:00 local time (04:00 GMT), 44 people had died and a total of 520 people were being treated in hospital, Xinhua reported.
Around 1,000 firefighters, along with 140 fire engines, spent the night tackling the flames.
A number were reportedly already on the scene at the time of the explosions, having been called out to earlier reports of a fire in the area.
There was an outpouring of support for them on social media as it became apparent that they were among the dead, injured and missing.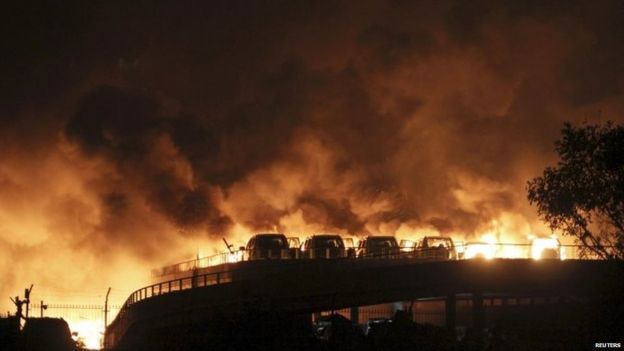 Hospitals were overwhelmed as residents rushed there to be treated for injuries or for news of missing loved ones.
Many without injuries responded for calls to donate blood, and long queues formed outside blood donation centres.
Chinese media has reported that the blasts happened after a shipment of explosives detonated in a warehouse owned by Ruihai Logistics, a company that specialises in handling dangerous and toxic chemicals.
State broadcaster China Central Television (CCTV) said at least one person from the "relevant company" had been detained for questioning.
There has been some criticism in Chinese media that a warehouse containing such dangerous chemicals should have been sited near a main road, housing complexes and office blocks.
Tianjin, home to some 15 million people, is a major port and industrial area to the south-east of the Chinese capital, Beijing.