Google for India: WiFi at 100 Railway Stations, New Hyderabad Campus and More Hiring Announced
7 years, 3 months ago - December 16, 2015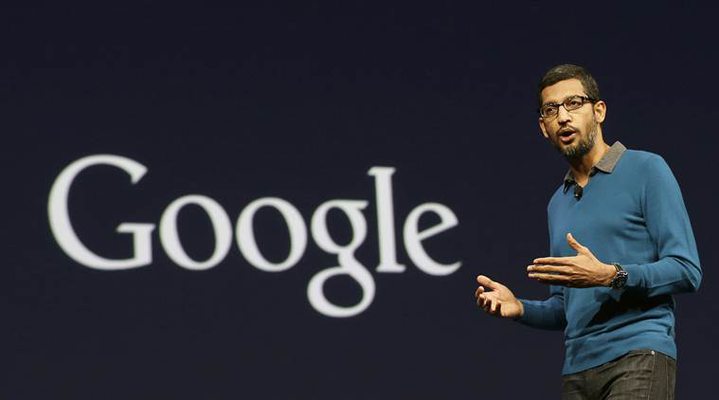 Google CEO Sundar Pichai delivered a keynote speech at Google India event in New Delhi. Pichai announced WiFi access at 100 railway stations in India and plans to hire more engineers for its campus in Hyderabad. Google CEO also extends support to Prime Minister Narendra Modi's Digital India campaign.
According to Wall Street Journal, Google is the world's largest digital-advertising company posted $3.98 billion in net income for the quarter ended in September, up from $2.74 billion a year earlier.
Google doesn't break out revenue or users by country, but for the past two years has made an average of roughly 45% of its sales in the U.S., 10% in the U.K. and 45% in the rest of the world, according to quarterly earnings reports.
Live updates from Sundar Pichai's Google for India event below:
Chromebit to launch in India at Rs 7,999. Asus will launch the product by January 2016.
A message received in Hindi can be copied and Google Translate will appear right inside WhatsApp and show translation
Google will soon launch Tap to translate feature. It will launch next year.
Google will crowd source the data for its translate feature. Translate via camera feature on Google Translate app will translate any sign pointed via camera into Hindi
Google to run translateathon which will get people translate more words. It will expand beyond Hindi to Bengali, Punjabi and Marathi
1.4 billion Android users in the world and the mobile OS now supports 74 languages across the world
Google will use fibre infrastructure for its super fast internet access at these railway stations
Everyone in the world should have access to full and open internet – Marian Croak, VP for Access strategy and emerging markets, Google
Google to introduce pause buffer feature soon allowing users to pause video, leave it to buffer, even leave the app or site and let it continue buffering – Eyal Manor
Content uploaded on YouTube from India has also doubled – Eyal
Time spent on YouTube growing at 150 percent in India, more than the worldwide growth.
India loves YouTube, especially on mobile – Eyal Manor, VP of Engineering, YouTube
More than a billion people use Google Maps for navigation. Mapping India has brought unique challenges and key learnings – Jen Fitzpatrick
Google's Delhi offline app gives real time information about transportation in the city 12.08 PM: Google Maps now supports turn by turn navigation even without Internet connection
India ranks third in terms of local guides on Google Maps
Jen Fitzpatrick talks about community mapping being essential to improve Google Maps
Google Maps VP Jen Fitzpatrick on stage
Google to launch improved versions of live cricket scores and replays on search early next year 11. 52 AM: Contextual Search demo – Google search will show users details about particular interest like a Bollywood actor.
50 percent of Indian internet users on 2G network with 3G users complaining of 2G like speeds. Google plans to fix that with Google AMP pages
Tamar Yehoshua talks about Google's Hindi keyboard input for Android. It allows users to type in English and texts appear in Hindi
We need to make sure our products work across Indian languages and making search work across 2G networks – Tamar
Tamar Yehoshua says its inspiring for Google to give access to all those who have never experienced internet before.
Google Search VP Tamar Yehoshua on stage
Sundar Pichai announces huge new Google campus in Hyderabad
Sundar Pichai announces WiFi at 100 railway stations by December 2016. Mumbai Central will be first railway station to get WiFi
Sundar Pichai refers to 2 million businesses using Google for Work productivity tools
YouTube is now offline, Google Maps is offline. Sundar Pichai is talking about making next billion people access Internet with limited connectivity
Sundar Pichai is referring to recently announced Google AMP pages which load four times faster
Android keyboard will support 11 Indian languages. Sundar Pichai says search team in India has made pages lighter and they now load faster
Google CEO Sundar Pichai on stage and starts with Android and its compatibility with many Indian languages
Internet will become even more affordable to all these new users and Google will make internet more accessible to for the next billion Indians
Internet access to Indians in their own language is the focus for Google in India
Startup ecosystem flourishing, says Anandan. He sees 500 million internet users by 2017
Over 150 million Indians connect to Internet via smartphones, says Anandan
Most of Google's top leadership is here. The focus is on making Internet accessible for the next generation of users, who won't be English speakers
Google India head Rajan Anandan takes stage before Pichai. Says this is the largest event of this kind for Google anywhere in the world.