The U.K.'s decision to exit Europe's common market could hurt Mauritius' apparel export earnings by about a 10th, in line with the rupee's appreciation against the pound.
The BOM cut its benchmark rate by 40 basis points last week, saying Brexit had damaged its growth outlook for the $11.5-billion economy. The European country accounts for 12 percent of Mauritius' tourists, Governor Rameswurlall Basant Roi said.
Mauritius made shipments to the U.K. worth 10.9 billion rupees ($305.6 million) in 2015, 58 percent of which were clothing such as T-shirts and trousers, according to Yogesh Singh, chairman of the Mauritius Exports Association. The nation also supplies seafood and sugar.
"Since clothing is not a basic necessity, the textile and clothing sector will be the most hit by the Brexit," Singh said in an interview in the capital, Port Louis. "It will definitely have a significant impact on the Mauritian economy as it is the largest export sector of the country."
The Mauritian currency has strengthened to 46.6 rupees per pound from 51.92 rupees when the electorate voted to leave the EU. The bloc takes up more than half of Mauritius' exports, providing 25.6 billion rupees worth of sales, excluding sugar. Meanwhile, the dollar's appreciation since the referendum has inflated manufacturers' import costs, causing a "double whammy."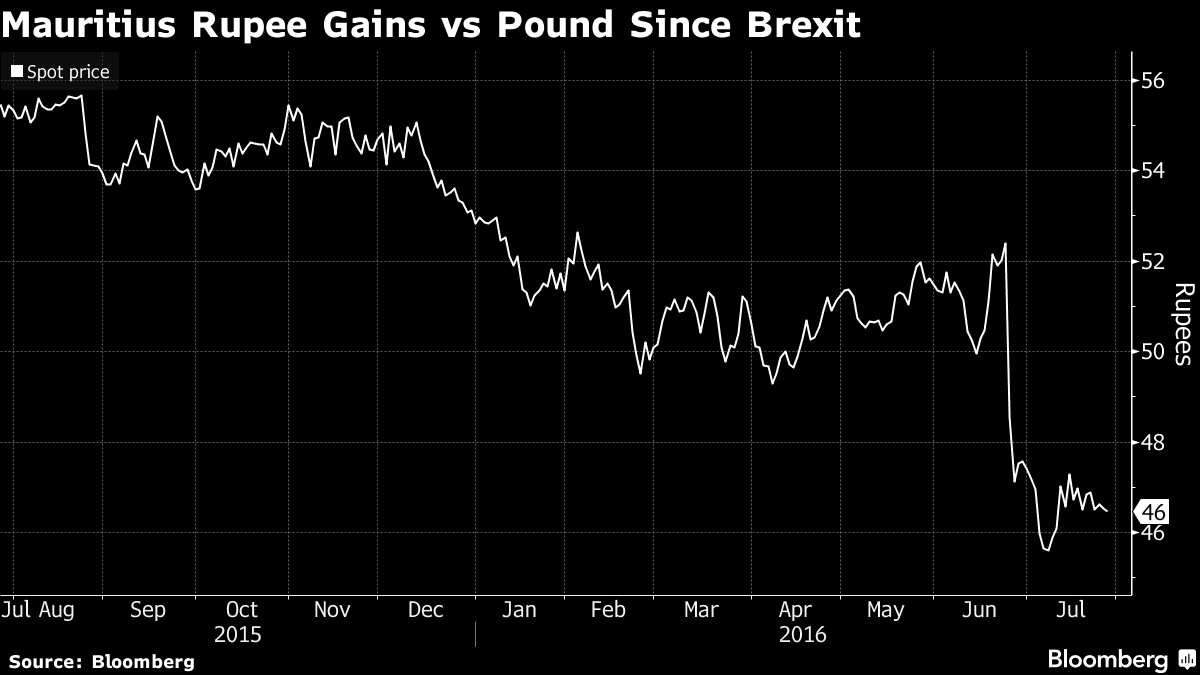 Mauritius exported clothing worth 6.5 billion rupees to the U.K. in 2015, about 90 percent of which were denominated in pounds, Singh said. Medium-sized companies will be hardest-hit, he said.
"For future orders, prices may be readjusted upwards," Singh said. "By how much is uncertain."
Mauritian companies started diversifying their export markets after the global financial crisis in 2008, shifting away from traditional destinations including France and toward new markets such as South Africa, Germany and Italy. While it is still the largest destination, the U.K.'s share of the total exports is down to 18 percent, Singh said.
Possible substitute markets could be additional sales to the U.S. and South Africa. There is potential to grow shipments to other African nations, but that market will take longer to develop.
"It's only South Africa that's a real potential market in Africa for Mauritian textiles and garments operators," Singh said.