India Independence Day 2016: Top Quotes From Narendra Modi's Speech
6 years, 7 months ago - August 15, 2016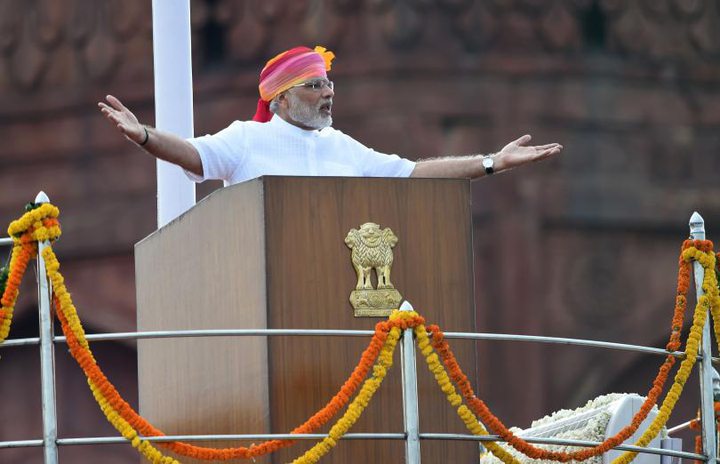 India celebrated its 70th Independence Day on Monday, with Prime Minister Narendra Modi addressing the nation from the iconic Red Fort in the capital New Delhi. On Aug. 15, 1947, India secured a hard-earned separation from Britain, and also partitioned into India and Pakistan, which later split further into Pakistan and Bangladesh.
Thousands of armed security personnel were deployed near the Red Fort, where Modi delivered his speech. A special team of National Security Guard snipers and commandos were present while anti-aircraft guns were deployed to thwart any aerial intrusion by objects like drones and projectiles, senior police officials reportedly said.
Top quotes from Modi's speech at the Red Fort on Monday.
Today on this special day, I convey my greetings to 125 crore Indians and the Indian community living overseas. May this energy guide the nation to scale newer heights of progress in the years to come.
I have tried to adopt the strategy of 'Reform, Perform and Transform'; tried to avoid populism.
When we came to power, we decided they must get electricity within a thousand days. Not even half the time has passed and 10,000 villages have got already electricity.
Violence does not have any place in our country. In the name of Maoism at the forest areas and in the name of terrorism at the borders, violence is being carried out.
A nation which is divided because of reasons like caste and religion cannot achieve great things.
We all will have to rise above the evils in our society. Only then we can make a robust and succesful India.
After 70 years of Independence, the nation has changed. Now the people don't get satisfied by a mere declaration of policy or plan. Now it expects to see the changes on grassroots.
There are a lot of problems which our country faces but we also have 1.25 billion people to solve these problems.
We have brought inflation rate below 6 per cent; I will continue to work to ensure food plate of poor is not affected by inflation.
There was a time when the government was surrounded by allegations, but now the government is surrounded by expectations.
Jawaharlal Nehru, India's first prime minister, delivers his famous "tryst with destiny" speech, Aug. 15, 1947, at Parliament House in New Delhi.