Olsen is leaving on July 15, with Chairman Beat Hess named interim CEO during the search for a successor, the Jona, Switzerland-based company said in a statement Monday. Olsen called his departure a bid to appease "strong tensions" arising from the Syria case. The company doesn't hold him responsible, saying his role and possible implication "has been a point of attention."
"This is another setback in a long series of bad decisions for Holcim and a necessary step to ensure the company can make a clean start," Bernstein analyst Phil Roseberg wrote in a note. The resulting "management vacuum at this time is likely to set back their already ambitious goals."
Olsen got the top job as a compromise to get the 2015 merger through. He was executive vice president of operations at Lafarge SA, the French company that merged with Switzerland's Holcim and was running the Syrian plant. His departure comes after LafargeHolcim said an internal investigation found "significant errors of judgement" after money was paid to armed Syrian groups to keep the site operating. While local and regional managers made the decisions, "selected members of group management were aware."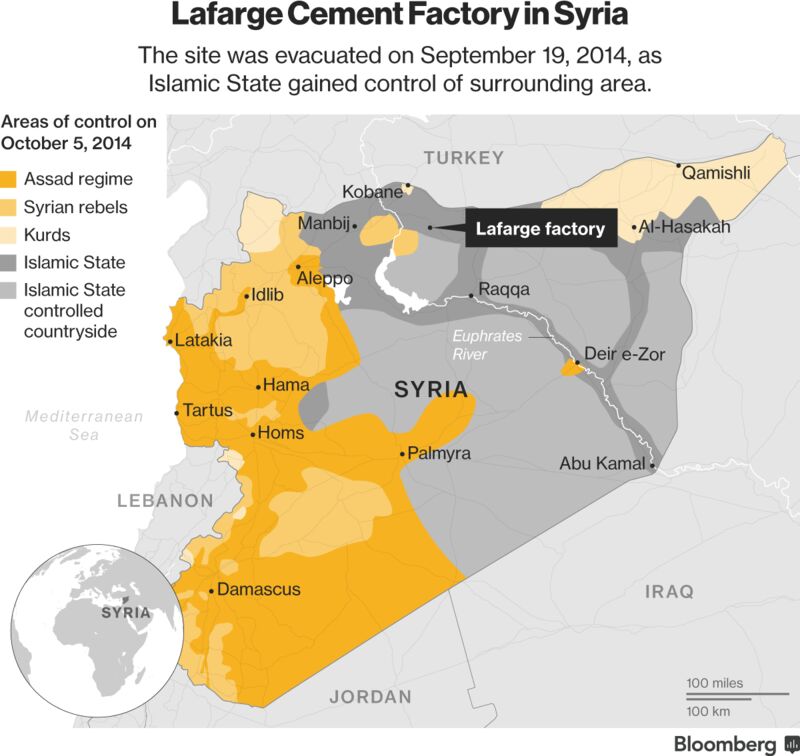 A change at the helm of LafargeHolcim was decided just as Olsen was working to capture promised benefits of the merger. Last month he signaled optimism about growth in some markets including the U.S. and said the company is expecting double-digit like-for-like increase in a key measure of profit. The perceived improvement came after he had struggled to convince investors of the merger benefits. In November, some analysts expressed skepticism about whether it could reach a 2018 profit target set amid asset sales and restructuring.
Shares rose 0.3 percent to 58.10 francs at 11:28 a.m. in Zurich, trailing the gains on the Swiss SMI Index, which advanced 1.5 percent as European shares rose in the wake of the French election results. This year, the cement maker has added about 10 percent.
After a difficult start, Olsen's credibility "has gained momentum throughout the last year and confidence in management had started to improve," Deutsche Bank analyst Xavier Marchand wrote in a note. The resignation brings "uncertainty to group strategy and performance as it could be some time for a successor to be appointed."
The controversy over the Syria dealings escalated when France's Economy Ministry confirmed in January it had filed a complaint with prosecutors the previous September against LafargeHolcim activities in Syria. Confirming legal proceedings continue in France, the company said Monday the board has concluded the CEO was not responsible nor thought to be aware of any wrongdoings.
'Unacceptable' Payments
An internal probe found funds were given to third parties who then made arrangements with a number of groups, including "sanctioned parties." The company said the payments were unacceptable. Islamic State fighters seized the plant in September 2014.
On Monday, LafargeHolcim said operating a plant in a war zone and the "can-do" approach to maintain operations led those involved in the running of the plant to "seriously misjudge" the situation.
The resignation "is driven by my conviction that it will contribute to addressing strong tensions that have recently arisen around the Syria case," Olsen said in the statement. "While I was absolutely not involved in, nor even aware of, any wrongdoing I believe my departure will contribute to bringing back serenity to a company that has been exposed for months on this case."
Olsen, who has both French and U.S. nationality, joined Lafarge in 1999. He was a compromise candidate after Holcim demanded changes to an initial merger agreement that would have installed Lafarge chief Bruno Lafont as head of the new entity. LafargeHolcim said in March that Lafont won't stand for re-election to the board.